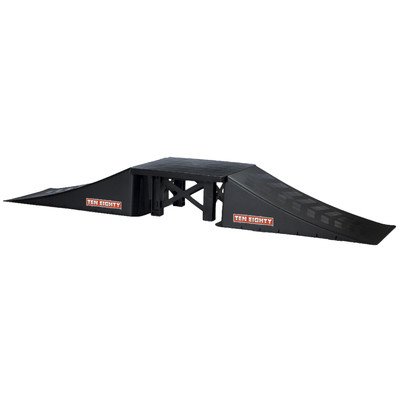 Product Description
Product Description
The Flybox Launch Ramp Set from Ten-Eighty is a great park feature for at-home outdoor use, offering novice riders and skaters the perfect platform for starting aerial tricks. Built with 2 ramps and a table top connector, the Flybox Launch Ramp Set assembles in minutes, providing the rider with the option to launch from either side or to simply roll over the top while still building the motor skills and confidence needed for more complicated maneuvering. The wedge shape is ideal for beginners to hone their skills, get big air, and master tricks without the intimidation of taller ramp heights with steep ramp surface radiuses. The ramp is made from a high-impact polymer that will hold up despite thrashing, with non-slip rubber feet and a textured finish to keep your wheels well planted. For use with scooters, skateboards, inline skates, and bikes. Recommended for ages 8 years and up, measures 104"L x 24"W x 12"H, and supports up to 200 pounds.
Amazon.com
This lightweight but sturdy set of two ramps, with a connecting flat piece, can be easily set up to form your own mini-skate park. It's not just skateboarding though, the ramps also let you catch air if you're on rollerblades, a BMX bike, or a scooter. The manufacturer, Compass Outdoors, makes other ramp and rail components that can be combined with this one to expand and arrange your ramps into many possible configurations. Assembly is required, but the instructions are easy to follow and all the necessary parts are included. --David Stoesz
Features
2 durable launch ramps with a tabletop connector
Textured slip-resistant finish provides safety without compromising fun
Non-slip rubber feet keep ramp in place during use
Easily assembles in minutes with few components
Recommended for ages 8 and up, measures 104"L x 24"W x 12"H, and supports up to 200 lbs.