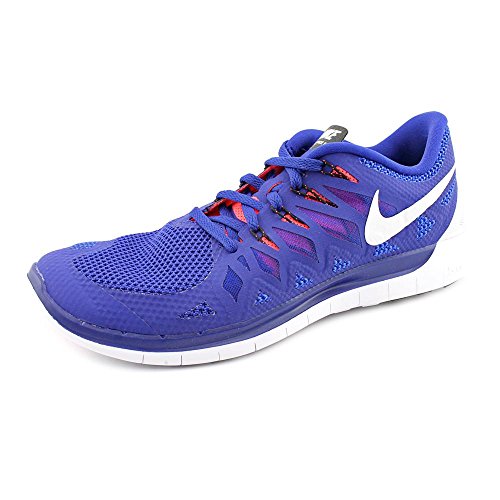 Nike Men's Free 5.0 Running Shoe
Product Description
Barefoot running's principle aim is to encourage people to adopt a more natural running style that obeys the body's evolutionary development. The human foot is engineered to strike closer to the midfoot than most cushioned running shoes allow, as such, barefoot running strips the superfluities away and retains only what is necessary to protect the foot from abrasive terrain. A more natural gait cycle conditions tendons, ligaments and muscles, whilst developing stronger, healthier feet and an improved posture. Upper A robust, though lightweight, woven mesh upper provides optimum ventilation, allowing air to fully permeate the shoe's interior, whilst Flywire cables deliver a secure, stable and adaptive midfoot fit. A series of thin mesh panels distributed throughout the midfoot increase airflow, no-sew overlays provide support and durability without adding undue weight and a traditional tongue construction alleviates lacing pressure that can be exerted across the top of the foot. Midsole The low-profile, Phylite midsole's robust construction allows it to also serve as the shoe's outsole, reducing the number of parts, potential fail points and weight. In a departure from previous iterations, flex grooves now adopt a hexagonal shape, thereby increasing the number of flex points to six, setting a precedent in natural motion. A minimal, moulded sockliner mimics the curvature of the foot for additional support whilst an 8mm heel-to-toe drop provides an ideal compromise between providing sufficient cushioning and accommodating a natural gait style. Outsole Areas surrounding the toe are generally more susceptible to wear, as such they have been reinforced with segments of solid rubber that enhance traction and durability. A series of waffle cut pistons work in concert with the Phylite midsole by absorbing impact and then returning to their original shape for added responsiveness. The heel has been rounded, adopting an anatomically beneficial shape that rolls with the ground
Features
Woven Mesh Upper - Provides optimum ventilation, allowing air to fully permeate the shoe's interior.
Flywire Cables - Deliver a secure, stable and adaptive midfoot fit.
Thin Mesh Panels - Distributed throughout the midfoot to increase airflow and comfort.
No-sew Overlays - Provide support and durability without adding undue weight.
Traditional Tongue Construction - Alleviates lacing pressure that can be exerted across the top of the foot.